Home Page
About Us
How it works
The Kitchen
Bookings and Contacts


Leonardo and Ilaria,
in-house cook and maître d',
welcome you
and invite you to contact them
for consultations and free estimates.
Buon appetito
Enjoy your meal

How it works :
We take care of everything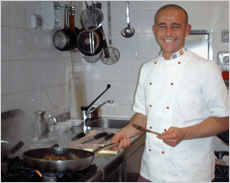 You will not need to worry about anything!
After the first contact, we will make an assessment of your house to understand the possibilities offered by your environment and your kitchen; to understand your tastes, your style and to concur with you the menu.
We will present you with some menu possibilities and estimated costs attached.
We will take care of the shopping by our trusted suppliers choosing only the best products for you.
We will cook everything, will serve you at your table and at the end we will work to return your home to perfectly clean as it was before we arrived.
Why not try the comfort of the restaurant in your home!