Home Page
About Us
How it works
The Kitchen
Bookings and Contacts


Leonardo and Ilaria,
in-house cook and maître d',
welcome you
and invite you to contact them
for consultations and free estimates.
Buon appetito
Enjoy your meal

About Us :
Leonardo Rettori and Ilaria Bigazzi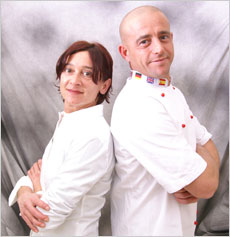 Leonardo Rettori and Ilaria Bigazzi, a couple united in life and work, have years of experience in the field of catering.
Leonardo, developed his skills by working in numerous restaurants and prestige farm holiday resorts (aziende agrituristiche) of Florence and the district. He has enriched his experience by working abroad. His passion is a traditional Tuscan kitchen.
Ilaria, administrator, she coordinates all aspects linked to the service, takes care of particularities and manages the work of all those that contribute to the perfect success of lunches, dinners, buffets and in-house ceremonies.